2014 RACE RESULTS ARE IN!
Age Group Results - Fun Run
Age Group Results - 5k
All Females - Fun Run
All Females - 5k
All Males - Fun Run
All Males - 5k
All Finishers - Fun Run
All Finishers - 5k
What a great race! Thank you to all the runners and walkers who participated in this year's 16th Annual Fiddler 5K and One-Mile Fun Run. The weather was perfect, the times were fast, and we raised lots of money for Habitat for Humanity of DeKalb County! It was a fantastic day!! Next year's race will be on July 4th, so we hope you'll plan to celebrate Independence Day 2015 at the 17th Annual Fiddler 5K in Smithville. Keep running, y'all!
2014 Overall Winners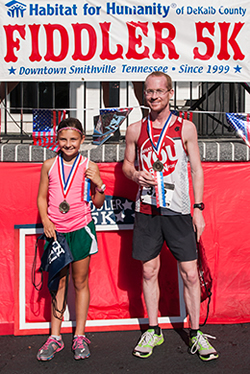 2014 Fiddler 5K
Overall Champions
Jacob Carrigan
- Nashville, TN
00:16:42.9 - male
Hope Ilias - Lebanon, TN
00:20:22.5 - female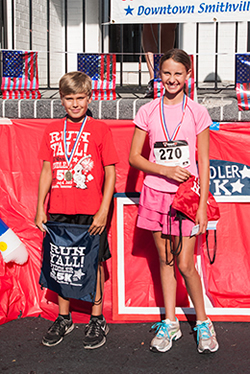 2014 Fiddler Fun Run
Overall Champion
Evan Elizabeth Welch - Sparta, TN
00:06:45.8 - female
Joshua Burtnett - Lebanon, TN
00:06:55.3 - male